Is Karratha worth visiting? Our top things to do off the beaten track
You might think that Karratha is far from everything. And, to an extent, you'd be right. But that's where its beauty lies. 
Karratha is a unique town, nestled among the stunning natural beauty of the Pilbara landscape. Surrounded by striking red earth and mesmerising rock formations, it sits approximately 1,500km north of Perth, making it a truly remote and captivating destination. 
While a relatively small population of just under 17,000 people, it's a thriving city, powered by the Western Australian mining industry. 
Its mild winters offer the ideal escape from the colder southern regions, and hot, dry summers are perfect for outdoor excursions.
And if you're looking for a base during your stay here, the Karratha International Hotel is your gateway to a Pilbara adventure. Conveniently located in the centre of town, it's close to some of the region's best beaches, while still being near enough to all the amenities you need to enjoy your stay.
Discover why Karratha is a fantastic destination to visit and stay, and how we can help you plan your Pilbara holiday—one that's truly away from it all.
What is Karratha known for?
Beautiful beaches and crystal blue water
One of the many secluded beaches you'll find in the Dampier Archipelago. Photo credit: Australia's Northwest
While being surrounded by baking red desert, Karratha actually boasts a collection of stunning beaches. These are hidden gems that aren't often talked about, but luckily for you, this also means you can sometimes get an entire beach to yourself!
Just near town, take a dip in the warm waters of Whitnell and Kings Bay, or hop on over to Back Beach, a local favourite for swimming, fishing, and four-wheel-driving. 
Just a 22-minute drive north of town, embrace the sun-kissed shores of Hearson's Cove, one of the region's most popular beaches. A family- and dog-friendly beach, it's the ideal spot for surfing, kayaking, and stand-up paddleboarding. And, when the time is right, you can even witness the breathtaking Staircase to the Moon. 
Just off the coast of Karratha lies the Dampier Archipelago, an area of rich marine habitats that offers exceptional snorkeling and boating. Keep an eye out for playful dolphins and inquisitive dugongs, and graceful manta rays gliding through the depths.
It's also an important nesting site for a variety of turtle species, and between July and September it becomes a humpback whale migration passage, when you may be lucky to see them breaching the surface.
Unique landscapes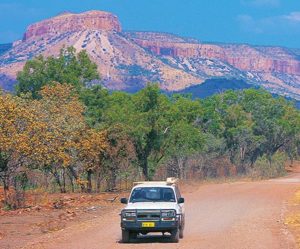 Karratha is your jumping off point to discover the Pilbara region, and experience some of Australia's most unique landscapes. But go with care, as the land that surrounds Karratha holds deep cultural significance to the Ngarluma, Yindjibarndi, and Yaburara people.
Just north of Karratha, discover Deep Gorge and the Yaburara Heritage Trail. These two sites offer a unique opportunity to explore the ancient landscape and learn about the traditional stories and customs of the Yaburara people.
Murujuga (the Burrup Peninsula) is home to one of the world's largest and most diverse collections of ancient rock art, capturing thousands of petroglyphs that document human existence from the last 47,000 years. 
Hire a four wheel drive and get out on the open road. Located around 120km southeast of Karratha, you'll discover Millstream Chichester National Park, a geological wonderland with ancient rocky gorges, spinifex-covered hills, and scenic waterholes. Wade into the secluded Python Pool, a serene freshwater pool and waterfall that's an iconic part of every Pilbara adventure.
Discover an oasis in the desert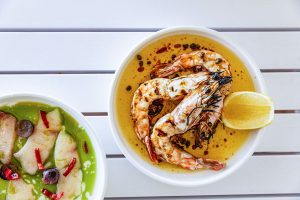 Closer to town, the centre of Karratha is a vibrant hub that caters to residents and visitors alike, offering a range of amenities. You'll find a diverse selection of shops, from boutique stores to modern shopping complexes, providing everything from fashion to souvenirs. 
There's an array of dining and drinking options to satisfy every craving, from humble meals with an ice-cold pint, to locally caught seafood. 
If you're after a more upscale dining experience, we recommend booking a table at Luce Bar e Cibo. Taking a fresh, modern approach to Italian cuisine, some of the star dishes at this restaurant include their grilled local prawns, Neapolitan-style pizzas, and slow-cooked lamb, alongside a hand-picked list of quality wines, beers, and classic cocktails.
Where's the best place to stay in Karratha?
Whether you're staying for a night or a week, the Karratha International Hotel is the perfect destination for couples, families, and city tourists seeking a comfortable and modern holiday experience that's close to it all. 
With a wide range of amenities on offer, we're the perfect spot for outback adventurers and non-camping types alike, providing a welcoming and convenient retreat after a day of exploration. Inside you'd find spacious and well-appointed rooms, on-site dining options, a refreshing pool, and friendly staff, you can unwind and recharge. 
Don't feel like going out at all? The adjoining Thirsty Camel bottle shop has your beverage needs sorted, and you'll have easy access to Luce Bar e Cibo, which is located within our hotel premises. The restaurant is open 7 days a week for lunch from 12:00 PM – 2:00 PM and dinner from 5:00 PM – 10:00 PM.
Whether you're here to relax, for work, or ready to discover the beauty of the Pilbara, the Karratha International Hotel ensures a memorable stay that ticks all the boxes for a fantastic holiday.
Contact our friendly staff today to book your Karratha accommodation.
BACK TO WHAT'S ON